OCULUS MEDIUM – "THE SUMMER OF MOVE".
Oculus has just launched their latest update: Oculus Medium 1.2  – "The Summer of Move"
We have been using the new update, testing out the new tools and improvements, which you can see in the list below:
Medium Application New Features
Move Tool
Reference Meshes
Studio Share Sculpting
Manipulators for scene objects and sculpt layers (also the ability to set the pivot of a layer)
Sculpt Origin object to set the export scale, rotation and orientation of the sculpt
Quick tool size scaling
Lots of little improvements and bug fixes
Featured Artist section of Landing page. We are very proud to be a featured artist on the Oculus Medium landing page. It gives a link to the main Oculus gallery where you can download most of the models we've been making since we started using Oculus Medium.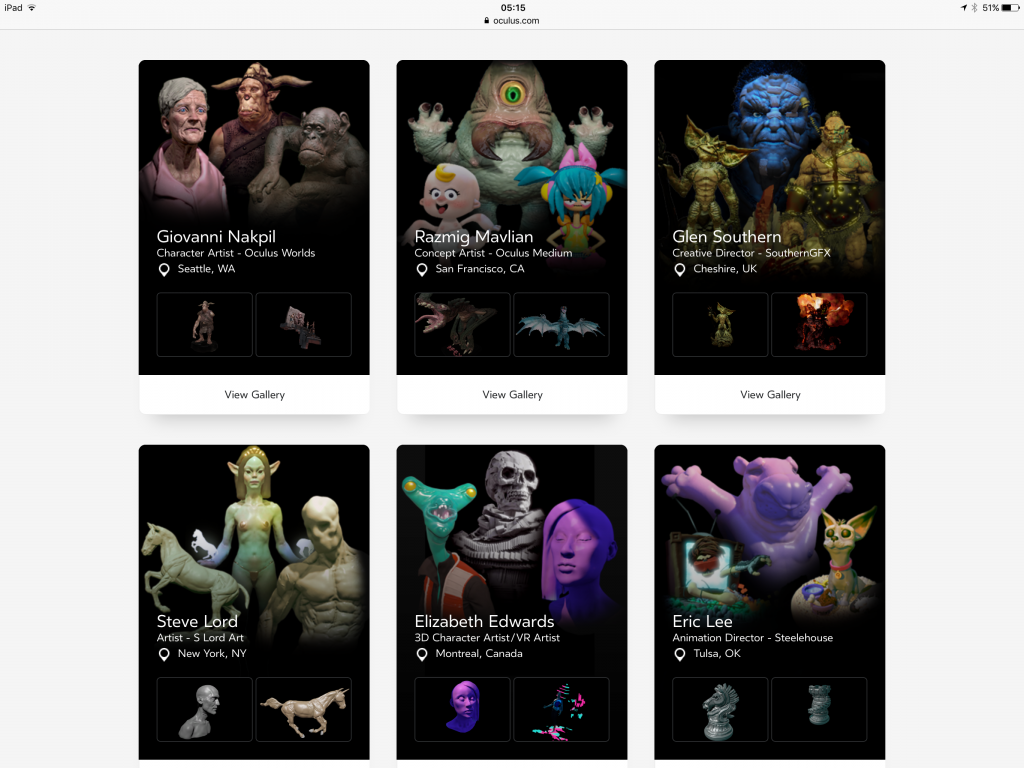 Details:
Move Tool

Move and warp the clay for proportion adjustments and repositioning, both large and small.
Studio Share

Connect to one other user and sculpt simultaneously on your own sculpts
Show off techniques and your work
Video record and take pictures of your session together
Note that Studio Share uses a significant amount of internet bandwidth and we recommend a fast internet connection for both users connecting.
Reference Meshes

Untextured FBX and OBJ import supported
Currently support vertex colors on OBJ only
Included some built in animal, vehicle, and anatomy reference meshes
Global visibility toggle
Sculpt Origin

Set the actual scale and origin of your sculpt for consistent exporting to other 3d packages in meters
Manipulators

Translate, rotate and uniformly scale objects in world, sculpt and object space along X, Y, and Z axes.
Enter precise transform values
Specify snapping increments
Quick tool size scaling

Pressing the thumbstick down like a button and then dragging and releasing the button will let you quickly set the size of the current tool.  This is more precise than using the thumbstick up and down
Layers

New layer creates material attributes off of last active layer
Surface constrain works on all visible layers now
Layer flip now goes across the symmetry plane correctly
Creating a stamp from a layer uses the layer's world-up orientation to create the resulting stamp orientation
Reference Images

You can now color pick off of reference images with the eyedropper
Included some built-in color palette reference images as examples under "Color Palettes"
Global visibility toggle
Library Browsing

Assets now sortable by date or name
Small Improvements

Settings menu button now pops up when you select an object, in addition to popping up with the tool gear button
Manipulate sculpt in any support mode when you deselect everything
Buttons and sliders visual pass
Sorting is now present in the asset browser in home
Fixed minor visual artifacts in the Softcone B stamp mesh
Below you can find videos and images of the sculpts we created in the latest version, showcasing use of the move tool.